What is permanent make-up
Permanent make-up is a similar procedure to tattooing by it's nature but will fade away within few years while tattoo is for lifetime. PMU is also more superficial and pigments exclude preservatives unlike tattoo pigments in which preservatives don't allow ink to wear away.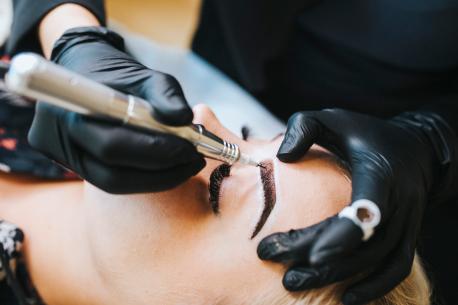 Is it safe to get permanent make-up?
MyBrows Studio is definately a safe place to get PMU done. By that I mean that we always use disposable needles once, other instruments are also either decently sterilized or used just once and then disposed. Procedure is carried out with modern and recognized equipment, best available on the market at that time. Permanent make-up is missing any long term side efects, but you might get short term side efects, such as like redness, tumidity and sensitivness which will pass within 2-3hrs. All pigments are premium quality and hypoallergic, so no worries if you have allregies.
Does it hurt?
Not really! We apply decent anesthetic on the area before starting the procedure, so it will numb you out. Usually it rather tickels than hurts. However all people are different and for some it might hurt a bit and could cause discomfort.
How long it take to carry out the procedure?
It will fit in 2 hrs normally.
How long will it heal and what should you keep in mind for aftercare?
As all people are unique and different, so is it with healing. It depends on customer's skin activity and how is fresh permanent make-up taken care of. Golden rule for healing is 7-10 days. I will give specific instructions for aftercare, so it would heal as fast and effective as possible.
What is the lifecycle of permanent make-up?
Normal lifecycle for eyebrow PMU is between 1,5-2 years, eyeliner and lips last usually a bit longer and about 3 years. However, it is quite impossible to tell exactly how long will results stay perfect for every customer. For instance it depends on skin type, pigment, aftercare and work quality.
Customers with oily skin should come for a retouch sooner than the ones with dry skin. Another important factor is sweating (intense workout and regular sauna result in less lasting results). When sunbathing, keep in mind that UV radiaton will dunn PMU pigment, so it will wear lighter sooner. Another PMU killer is peeling facial care, so I would recommend to avoid that in PMU area.
What are the contraindications for PMU?
Permanent make-up has contraindications for:
• Skin rash or diseas in the area
• Chronical diseases at peak and during treatment
• Cancer treatment and oncological diseases
• Tendancy for keloidarms
• Under incluence of narcotic and alcoholic substances
• Dermathritis
• Autoimmune diseases
• Heavy mental illness
• Allergies for anesthetics
• Tendancy for scars
• Slashed capillary
• Numerous acne in the area
• Big birth marks in the area
• Numerous keratosis
• I will not do PMU for pregnant women
• Insulin dependand diabetes
• Epilepsy
• Leukemia
• Anemia
• PLEASE INFORM ME BEFORE PROCEDURE ABOUT YOUR ALLERGIES AND DISEASES:
Do you need to retouch permanent make-up?`
If you really are looking for an ideal and long lasting results then you should come for a retouch between 1-3 months from first time. Skin has different activity in different areas, it means that it will absorb and fight off pigment also differenty. Results might be uneven, therefor in retouch we can fix this and make corrections in shape and darkness if nessecary.
6 things you should definately avoid and do after permanent make-up procedure – it's all for better final results!
1. Keep your brows dry and clean for the first 7 days. So I recommend no swimming, sauna and intensive workout. Light workout with minimal sweat is fine. For cleaning use warm water and put light pressure on brows.
2. If they start to itch, DON'T SCRATCH. Best way to get a releif is to place a finger on the itching area and apply little pressure until itching disappears.
3. When brows feel dry, please apply gently the cream you got from me as soon as possible.
4. Give up sleeping on your stomach during first week, prefer sleeping on your back or side to avoid any unwanted rubbing with your pillow.
5. You might experience scabs and pieces of skin on the area, but don't touch them, let them to fall off by themselves. Because as soon as you remove scabs, you also might remove pigment. Most of the times you cant even see the scabs, so you can still do what you do daily, just let them be.
6. If you feel like putting some makeup on after 10th day, then please use good quality mineral cosmetics only. Cheap and bad quaility cosmetics, in which you get many bad chemicals, ruins pigent.
What happens if you are not happy with the results?
Don't worry – it won't happen! During my practises over time, I have developed a way how to avoid it 99,9% of the times.
At first we consult to find out what kind of brows you really desire. This done, I will measure and draw that brow shape and you can have a look at it.
Only after we both confirm that this brow shape is ideal for you, will I perform permanent make-up.
How to prepare yourself for permanent make-up procedure?
1. Know what you are getting! Please study the procedure by reading online or asking the master/artist you are getting it from. You should definately know all the pros and cons before procedure.
2. Plan you visit on day you can take it easy, so it's better if you don't have to look perfect on that day. Every individual's skin reacts differently and your skin in the area might be red and swallen for 2-3 hrs after the procedure.
3. Don't take any medicine or paintkillers before the procedure.
4. Don't consume alcohol 24 hrs before your visit.
5. Don't use any products containing Tretinoin (Retin-A) in brow area atleast 2 weeks before procedure.
6. Don't use any anti-aging products in the brow are for atleast 2 weeks before procedure.
7. Don't pluck your brows atleat 1 week before procedure.
8. Tell me about your allergies and chronic diseases!
Didn't find an answer for your question?
In case your question is not listed in here or you would like to get more information about our products and services, then feel absolutely free to conctact us info@mybrows.ee or you can always call our Assistant Gisela +372 562 999 53.
SOOVID TULLA?
Selleks tuleks sul broneerida aeg meie veebilehel.
Olen aastaid omale ilusaid kulme soovinud aga siiani olen kartnud neid teha lasta. Triinu töid vaadates julgesin selle lòpuks ette vótta ja olen superrahul! Väga meeldiv tegija kes teab mida teeb ja kes vähegi ka veel pelgavad seda protseduuri ette võtta siis soovitan kindlasti!

Triin on super andekas kulmuartist . Jäin kulmu kaarega ning hooldusega väga rahule. Väga detailne ning professionaalne töö! Soovitan kindlasti kõigile, teeb ka olematutest kulmudest kõige kaunimad kulmud. Ning ta ei lõpeta ennem kui lõpp tulemus on ideaalne .

Super töö ja super tegija. Täiesti suvalisest kulmuharakatest said ilusad ja konkreetsed kulmud, mis lausa kaunistavad mu nägu ja tulemus on nii naturaalne!!

Kui inimene armastab seda mida teeb siis tuleb see tal suurepäraselt välja. Triin teeb oma tööd suure südame ja pühendusega.

Võrratu tehnik! Tunneb oma ala ja teeb tööd täiuseni! Ei jäta enne kui kõik on perfektne! Aitäh ilusate kulmude eest! Oled väga andekas

Teeb väga hoolikalt oma tööd ning ei jäta enne, kui tulemusega jäävad mölemad osapooled rahule. Seletab mis teeb ja kuidas nii enne ja ka töö käigus. Väga kliendikeskne suhtumine, super!

Triin tegi mulle kaunid microblading kulmud, väga meeldiv inimesena ja tasub usaldada end spetsialisti kätte! Soovitan