What is Microblading?
Microblading is a manual permanent makeup method in which all brow strokes will be drawn out separetly and pigments will be chosen according to client's natural hair and brow colour, so the result will be really life-like. Brow shape will be measured and designed according to client's skull structure and client's personal design preferences will be also taken into consideration. Results last up to 1 year.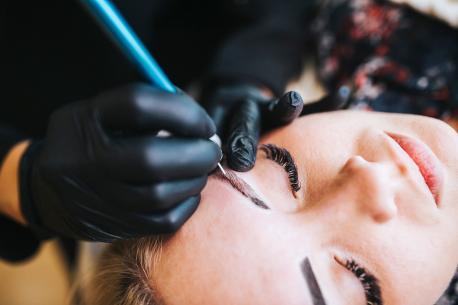 How is microblading done?
After designing the brows with pencil and receiving confirmaition from client, I will start making hairstrokes in upper dermis with a microblading blade to insert ink which will look after healing like natural brows – all hairstrokes are drewn out separetely. The blade used to microblade is not an ordinary blade, in fact it usually consist of 7-14 small microneedles placed side by side to each other. I use blade to catch ink from the pot and to do a hairstroke imitation microcut which will result visually as a natural hairstroke.
What pigments am I using for microblading?
The most important things about the pigments is their overall quality and ingridients, because those two are key players for well healed and natural looking microbladed brows. I only use world known brands with highest possible quality pigments, specificly developed for microblading purposes.
How long results last?
In average results look good for 12 months – sometimes less, sometimes longer. Approximately within one year will the ink used for microblading be desolved from your skin during the renewal of skincells and it will no longer be visible. The duration of good looking result depends on different factors. Aftercare is extremely important, about 50% of the final result depends on customers actions after  
procedure and how he/she takes care of brows while healing. Important role is also played by skin type, age, drug usage and sun exposure. DO NOT WORRY, I will give you specific HOW-TO for the best possible results.
Does Microblading hurt?
My experience shows that little pain during Microblading procedure is easily bearable. I use anesthetic, so most clients won't feel a thing after that.
How long does it take to get Microblading done?
I always book 2 hours for every client. Some clients are already blessed with perfect brow shape, so their procedure will take only about an hour. The most time consumable is brow measuring and designing process, so make sure you book yourself atleast 2 hours in your calendar.
Can you meet peole right after Microblading procedure without getting eyeballed?
The answer is YES you can. Your skin will be little redish and could be swallen, but it usually passes within 2-3 hours.
How long will it take for skin uper layers to recover from procedure?
Your skin in the area will be recovered in 7-14 days, within this time skin has adopted the pigment inserted. In first few days you will get little scabs where microcuts were done, they will fall in coming 7-14 days. Usually they will not be seen by observer. After that will pigment fixate in your skin another 3-4 weeks. You should wait 2-3 weeks after retouch to see the final and lasting result.
6 things you should definately avoid and do after Microblading procedure – it's all for better final results!
1. Keep your brows dry and clean for the first 7 days. So I recommend no swimming, sauna and intensive workout. Light workout with minimal sweat is fine. For cleaning use warm water and put light pressure on brows.
2. If they start to itch, DON'T SCRATCH. Best way to get a releif is to place a finger on the itching area and apply little pressure until itching disappears.
3. When brows feel dry, please apply gently the cream you got from me as soon as possible.
4. Give up sleeping on your stomach during first week, prefer sleeping on your back or side to avoid any unwanted rubbing with your pillow.
5. You might experience scabs and pieces of skin on the area, but don't touch them, let them to fall off by themselves. Because as soon as you remove scabs, you also might remove pigment. Most of the times you cant even see the scabs, so you can still do what you do daily, just let them be.
6. If you feel like putting some makeup on after 10th day, then please use good quality mineral cosmetics only. Cheap and bad quaility cosmetics, in which you get many bad chemicals, ruins pigent.
What are the contraindications for Microblading?
Microblading can't be well performed with some skin types, for instance:
Oily skin
Slashed capillary
Numerous acne in the area
Big birth marks in the area
Numerous keratosis
I will not do Microblading for pregnant women
Insulin dependand diabetes
Epilepsy
Leukemia
Anemia
PLEASE INFORM ME BEFORE PROCEDURE ABOUT YOUR ALLERGIES AND DISEASES:
What happens if you are not happy with the results?
Don't worry – it won't happen! During my practises over time, I have developed a way how to avoid it 99,9% of the times.
At first we consult to find out what kind of brows you really desire. This done, I will measure and draw that brow shape and you can have a look at it.
Only after we both confirm that this brow shape is ideal for you, will I perform Microblading.
What are the 8 main reasons, why people want Microblading?
1. Can't be bothered to draw brows every single day.
2. Don't feel like getting brows appointment every month.
3. Want brows that look amazing right after waking up in the morning.
4. Want brows that look good while working out, swimming and while sunbathing/sweating with hot sun.
5. Thin or missing hairstrokes in brow area.
6. Scars in brow area, hair won't grow there.
7. Girlfriend has Microblading and she is really happy with it.
8. Microblading is just comfy and makes daily life so much easier.
How to prepare yourself for Microblading procedure?
1. Know what you are getting! Please study the procedure by reading online or asking the master/artist you are getting it from. You should definately know all the pros and cons before procedure.
2. Plan you visit on day you can take it easy, so it's better if you don't have to look perfect on that day. Every individual's skin reacts differently and your skin in the area might be red and swallen for 2-3 hrs after the procedure.
3. Don't take any medicine or paintkillers before the procedure.
4. Don't consume alcohol 24 hrs before your visit.
5. Don't use any products containing Tretinoin (Retin-A) in brow area atleast 2 weeks before procedure.
6. Don't use any anti-aging products in the brow are for atleast 2 weeks before procedure.
7. Don't pluck your brows atleat 1 week before procedure.
8. Tell me about your allergies and chronic diseases!
What to keep in mind after the Microblading procedure?
Your brow skin might be quite sensitive during first 24 hrs. If you want to clean your brows, please be cautios and apply minimal pressure on area. It is normal to get little clotted blood scabs which includ partly pigment in the area. DO NOT remove scabs! The best would be to keep your brows dry for the first 3 days. If they feel really dry, pleas use the cream I gave you to keep your brows moist.
Do not use any makeup on your brows until scabs have fallen off. After falling off use only premium quality natural brow powder or gel. Cheap make-up usually includes harmful chemicals which can ruin the pigment. Avoid cosmetic procedures, solarium, sunbathing, sauna, swimming, intense workout and sweating for atleast first 7 days.
Please don't take results after first procedure as final results. You should not analyze your results in first few days too much. Pigment will get lighter about 40-50% and brow size will decrease 10-20%. If needed, please come for a retouch in 4-8 weeks since first time. In retouch we fix spots and hairstrokes which healed lighter or uneven. Most clients value healed results a lot higher than the visual right after doig.
Microblading VS Tattooing
There are 2 main methods for brow permanent make-up these days: cosmetic tattooing (permanent make-up) and Microblading. You could have gotten also permently tattooed brows just a few years ago, which meant you have your tattooed brows forever – luckily these times are over.
Permanent make-up is done with a machine and pigment is being inserted in the upper skin layers. Microblading is done manually, which means that pigment is being intserted with a special blade between upper skin layer (epidermis) and dermis. Pigment devolves within 1-2 years if not updated.
With Microblading hairstroke tehcnique you get crisper and thinner hairstrokes than with cosmetic tattooing. While in shading technique you get better results with cosmetic tattooing. Of course when combining those two techniques (cosmetic tattoo shading between microbladed hairstrokes), you will get a really natural and beautiful results too.
SOOVID TULLA?
Selleks tuleks sul broneerida aeg meie veebilehel.
Kaisa tegi minust inimese! � Meikimata olekus 13-aastasena tunduvast neiust sai tänu osavale näputööle naine ning lõpu leidis 10 aastat kestnud pidev kulmude värvimine ja joonistamine. Unistasin pikalt püsimeigist ning piilusin pidevalt MyBrows lehele. See oli kindlasti ainuõige otsus, et sünnipäevakingiks saadud raha sellesse protseduuri investeerida. Retouch veel ootab ees ja kulmud alles paranevad, aga juba praegu olen väga rahul! Kaisa on inimesena ka üliäge, seega 2in1, hea ning kvaliteetne töö + meeldiv õhkkond!

Teele Saar


05/08/2018

Absolutely beautiful eyebrows! I couldn't have imagined I'd someday have so perfect eyebrows! I recommend My Brows to everyone! ☺️ Niin kauniit kulmat! En olis ikinä uskonut että saan joskus vielä niin täydelliset kulmat! Suosittelen kaikille! ☺️ Nii ilusad kulmud! Ma ei oleks mitte kunagi uskunud et ma saaksin sellised täiuslikud kulmud! Suur tänu Kaisale! ☺️

Irina Karvonen


12/09/2018

Aitäh, Kaisa ? Teed suurepärast tööd! Olen oma "uute" kulmudega väga rahul ? Suured tänud Sulle ja soojad tervitused!

Helin Väät


15/09/2018

Kallid sõbrad ja tuttavad, soovitan soojalt Triinu teenuseid! Mina usaldasin end Triinu kätesse, ja ma kordagi ei kahetse, et seda tegin. Tegemist on oma ala proffessionaaliga! Soojad tervitused Sulle Triin! ��

Siret Noobel


18/08/2018

Imeline! Esimest korda elus on mul kulmud! ??? Super töö Kaisa poolt!?

Pauliine Uint


05/12/2018

Jälgisin päris pikalt Triinu tööde pilte enne kui endale aja broneerisin. Ja oma valikuga jäin ma väga rahule. Super töö ja ilusad kulmud! Ja veel ainult ühe korraga. ?

Agnes Viikmäe


12/10/2018